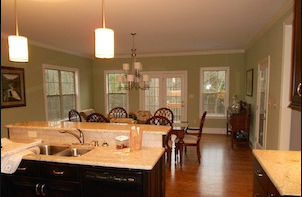 "Bob Rouse made building my new home as stress free as it could be. He was easily reachable by cell, text, or email. He was on site very day ensuring quality. The house was ready on time and on budget. My new home is just what I wanted. You cannot find anyone better to build for you. Thank you Bob!"
"Renovating your home can be a daunting experience, unless you hire the right contractor to see you through all phases of the project. I chose Rouse Builders to handle my home renovations.
Why Rouse?
When I moved into my home over 9 years ago, I drove through the neighborhood admiring many of the lawns and landscape designs of my neighbors. I knew I would need to hire some one to take care of my yard very soon; fortunately for me there was a Rouse Builders Landscaping truck parked in front of a neighbor's yard. I quickly jotted the phone number down and later in the day gave them a call. Of course I had an immediate need; family was coming to visit and everything was overgrown and looking shabby. Carlton Rouse and his crew rearranged their busy schedule to help me out. They did a magnificent job. And so began my relationship with Rouse Builders.
Next it was the irrigation system for the yard and some landscaping design work in the back. The project was handled in the most professional manner; we had a discussion about the project; Carlton listened, gave feedback and suggestions and supplied me with drawings, a written proposal and a start and finish date. Expectations were not just met, they were exceeded. My relationship with Rouse Builders started with Carlton Rouse and landscaping projects; I considered Carlton Rouse a friend, not just a service provider.
Two years ago Bob Rouse and I got together to discuss some renovations that I wanted done. My first project was replacing all of the windows in the house. Bob took the same professional approach to the job as Carlton did. We met and discussed the project; Bob listened and made good suggestions. Bob had me meet his subcontractors and suppliers for the proposed job and all were interested in hearing my input. Only when I was fully informed and comfortable with the project, did Bob put the proposal together. We reviewed the scope, cost and the timeline and kept an on-going dialogue before, during and after the completion of the project. All of the subcontractors were consummate professionals: neat, organized and respectful of my property. I was very pleased with the outcome.
We talked about other projects – minor and major. I was contemplating some kitchen facelifts and changes to my screened porch. Our conversation went on for about a year. Bob never pressured me; he answered my questions, gave me feedback and suggestions and was patient with me as I weighed my options. Once again he had me meet his subcontractors who, experts in their own right, gave me good ideas and worked with me one on one.
I decided to move forward with a complete kitchen renovation (demo) along with side bar renovations to the garage, screen porch and front door. Never having done this type of project, I was certainly glad I chose Rouse Builders. Bob is detail oriented, organized and gives you only straightforward information. I knew exactly what I was getting into and for how long. Bob was genuinely concerned about my family and the inconvenience the project would cause in our day to day lives. He was in constant contact with me and kept me apprised of what was going on. Bob worked with me and around my hectic work schedule; albeit gave me target dates for decisions to keep the project going. He was personally involved; Bob was at the sight daily overseeing ever detail.
Rouse's subcontractors are the best; experts in their respective field and interested in doing their job well. They take pride in their work, and it shows. All were neat, respectful of my family, property and the work of the other subs. As in all projects, there will be glitches; they were addressed, decisions were made and issues resolved satisfactorily. I am extremely pleased with the final results and consider Bob Rouse a friend.
I see in Rouse Builders integrity and honesty. I see pride in a job well done. I see genuine caring and concern for their clients. I see high expectations from their subcontractors and suppliers and mutual respect in return. I see a family business that has become part of my family. I would choose no one other than Rouse Builders for my next project."
"After residing in our home for 29 years we finally decided to have a large porch addition that should have been included during the original construction.
After our first meeting with Bob advising him of our dreams, as well as the practical aspect of the project, it was apparent that we did not need to obtain other bids. Bob walked us thru the design process and offered structural advice that proved to be valuable.
Rouse Builders exceeded our expectations in all phases of construction. Bob was on site with all construction and kept the worksite orderly and safe. During the process we realized additional areas of our home needed attention and Rouse was able to provide for these numerous "changes" without issues.
The project was completed in a timely fashion with exceptional quality of workmanship. We had the opportunity to get acquainted with a number of the sub-contractors and were impressed with their loyalty to Rouse Builders and desire to provide quality."
"From our initial meeting with Bob, our main point of contact, he instilled confidence in us as he listened intently and advised us based on his wealth of knowledge and experience. We quickly learned that quality is key for Rouse Builders, and we were able to rest assured knowing that Bob would not sacrifice quality, nor would he ever consider using a product in our home that he would not put in his own. Bob also gained our trust as he helped us discern the most important areas to invest our resources and other things that could be done at a later time.
It would be easy to quickly become overwhelmed when building a home, but we never did as Bob was careful to focus us on one thing at a time. Without exception, Bob's subcontractors and suppliers sang his praises, which continued to confirm that we were with the right builder.
Carlton did an outstanding job with our landscape. We continue to receive compliments, and during the first year we were in our home, it was fun to see what was going to bloom next as something always seemed to be in season.
Bob was always available to us, and our relationship was marked by excellent communication. As we were first time homebuilders, we came to rely on Bob to advise us on various things, and we knew we could trust his opinion and impeccable taste. We are so thankful we had the opportunity to build with Rouse Builders and happy to say our friendship continues to grow long after the completion of our beautiful home."
"Rouse Builders did a quality job building our home and within the timeframe that had been projected. We are well pleased with the construction and beauty of our home.
Rouse is a quality builder with the experience and flexibility to make changes upon customer request.
Rouse Builders did a superior job in building our home. We have a home that we will cherish for years to come.
Rouse Builders exceeded our expectations in building our home. We are as pleased with it now as the day it was completed.
Rouse Builders did an excellent job with the construction of our new home. The quality of work and attention to detail was outstanding. Bob Rouse is a professional builder that I would proudly recommend to others.
We are 100% satisfied with Rouse Builders. our building experience was enjoyable and exciting, and bob and Carlton absolutely exceeded our high expectations."
"I want to thank you for being a life saver for us this time last year when our home suffered severe damage from storms and the large tree falling on our house. I saw then that your reputation was well earned. You essentially took over the entire process of restoring the home to normalcy while dealing with every detail including insurance filing and reconciliation, scheduling contractors, and assuring quality results. I couldn't imagine anyone making this process easier for us. We felt you expected the same high standards in our home as you would your own.
Later, with other upgrades and maintenance of our home you always exceeded our high expectations. Thank you."
"Several years ago, we built a new home and contracted with Bob Rouse of Rouse Builders, Inc. As we had known Bob for a number of years and knew that he is a Christian with an excellent quality and professional reputation, we felt very comfortable in allowing Bob to construct our home. Bob was there with us from the first meeting where we discussed what we wanted, through the changes in the house plans and the selection of materials and amenities, throughout the construction phase, and finally the completion of the house. Bob has a great working knowledge of construction, has honesty and integrity, is able to hear what the client expects, and is able to meet the expectations of the client. Bob used excellent, quality materials and employed very conscientious sub-contractors. These sub-contractors took great pride in their work, had a great working knowledge of their trade, and were very agreeable and easy to work with. Bob was always very responsive to any concerns, questions, or follow up. With many years of landscaping experience, we used Carlton Rouse to landscape the yard. Once again, Carlton was easy to work with and listened to what we wanted in landscaping, plants, and shrubs. Carlton has the expertise and the experience to meet the expectations of the client.
Rouse Builders built and landscaped for us a beautiful, quality home, and we would use them again."
"It's hard to believe that it has been almost a year since the storm that resulted in a 100 foot tall tree fell into one of our bed rooms.
No one could have responded quicker and certainly no one could have done a better quality job. It is amazing that your crew was in my driveway three hours after I called you, waiting on the crane to get the tree out of my house. That was a Tuesday morning and we were in the dry by Friday! Also, I can't say enough about your team of craftsmen that repaired our home.
Thanks for a job well done and for making it easy on Jane and I."
"For several years I had dreamed of a new kitchen, but, I dreaded the prospect of finding a reliable contractor following frustrating prior renovation projects. A close friend had just built a new home and had frequently praised her builder. Thanks to her I was introduced to Bob.
Working with Bob was a pleasure! I was truly amazed that the project was so efficiently organized. All of the subcontractors were professional, courteous and highly skilled. The timeline was precisely planned. Everyone showed up when they were supposed to and the project was completed when Bob said that it would be.
Whenever I needed a little design help Bob directed me to the right people. I really appreciated Bob's daily oversight. His attention to detail is evident in the final product. Communication is one of Bob's many qualities. He kept me informed via email or by phone and always responded promptly to my emails and phone calls.
Bob gave us a quality kitchen which I love every day! But more than that, he gave my husband and I an opportunity to be uplifted by a kind man of integrity."
"It is with gratitude and enthusiasm that we are writing this letter of recommendation for Rouse Builders. Karen and I have appreciated your guidance and thoughtfulness throughout what turned to be a substantial home construction project and process. You did a wonderful job identifying superb contractors. You and your workers are very bright, articulate and flexible yet firm in making sure that there was careful attention to detail. These attributes helped to form a successful working relationship. Your constant availability and honesty were and remain, important to us.
Karen and I want to thank you for all of your hard work and impeccable quality. Our guests tend to comment as much on the quality of construction as they do on the design. We are more than happy to highly recommend Rouse Builders and are willing to share our experiences working with you and your employees. We have been so thrilled with our experience, we have already recommended many people for you to work with. Thank you for building our dream home and should we need to build another home, Rouse Builders will be the company we ask."
"It is very difficult to limit to a few the positive adjectives for my experiences with Bob and Carlton Rouse. I have worked with them for fourteen years, from a large project–building a house–to a small one–a study addition to my present home a couple of years ago, as well as on-going landscaping work that Carlton oversees. The best way to describe ROUSE BUILDERS that come most quickly to mind are "Integrity" and "Professionalism." Their cost estimates are accurate–they have never exceeded an estimate unless it was something that I chose to change. They are prompt and finish a job on schedule. They stand behind their work and will ALWAYS correct anything that goes wrong after completion. Their subcontractors are the best in their fields and completely trustworthy. Every facet of the project is of the highest quality. I think that both of these men are the best in this area and I would never hesitate to recommend them. It has been one of the blessings of my life to be able to deal with the Rouse brothers."
"Our personal experience with Bob and Carlton Rouse of Rouse Builders was better than we could have hoped. When we began the initial planning process, Bob and Carlton were always punctual. This carried over into the actual home building process as they were at the construction site before the subcontractors arrived. They always listened to our ideas and helped incorporate them into our home. They selected what I believe to be top-notch people to build our home. When the home was finished, Bob and Carlton provided us with a packet of information on all of our subcontractors and material choices. This way, we are always able to look up exactly who did the work or which colors were used. Building a home can be very stressful, but if you want the process to be enjoyable, I don't know who could make it any better than Bob and Carlton."
My wife and I have lived in Gaston Co. Community and been involved with many wonderful business men, women, and Professionals. It was 2006 and we had decided to build our Dream Home. We spoke to several builders and decided to commit to ROUSE BUILDERS – they believe in the family concept so with Bob the builder, Carlton the Landscaper and Mark the banker, we felt very comfortable with our decision. From the initial ground breaking to the completed project, we were completely satisfied.
Bob worked with us daily and kept us informed as to what we could expect each day. His crew of sub- contractors could not have been better and more entertaining to spend each job with. Bob and Carlton were always available if needed. We are truly thankful that we had the opportunity to spend one year of our life with such professional design and special friends.
"Being an insurance agent, I have the pleasure of knowing and dealing with many home builders in the Gaston County area. But, when I decided to build a new home several years ago, it was an easy choice in selecting a builder. Without question, in my opinion, Rouse Builders stand head and shoulders above other builders in Gaston County. They are hands-on in every way. The construction of my home stayed on schedule and I am very pleased with all aspects of the construction of my home by the #1 builder in Gaston County—- ROUSE BUILDERS INC."